Carpets do not get soiled in one day. It is a gradual process and it happens if we do not take necessary measures to save our carpets. Dirt and dust accumulated for a prolonged period and make it dirty. This is a big reason for premature wearing down of carpet as well.

Both Steam Carpet Cleaning and Dry Carpet Cleaning are good while they have their own pros and cons.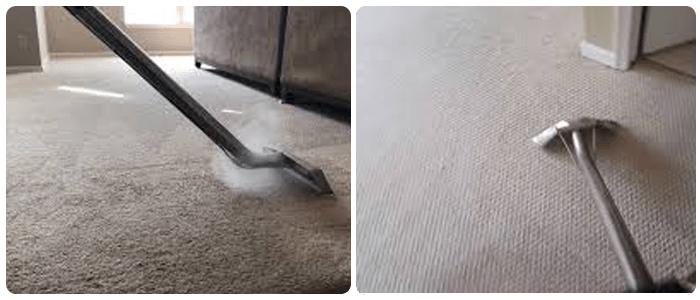 Here We Will Be Discussing Steam Carpet Cleaning and Dry Carpet Cleaning in Detail.
| | |
| --- | --- |
| Carpet Dry Cleaning | Carpet Steam Cleaning |
| ● Carbonating method of cleaning is used. It is an active cleaning solution. | ● Steam cleaning is an inactive cleaning solution. |
| ● Here soaps or detergents are not used for cleaning the carpet. | ● Harmful chemicals and harsh detergents are used. |
| ● We won't find any sticky residue, at the end of the cleaning task. | ● It left the carpet with sticky residue which can leads to resoiling. |
| ● Very less quantity of water being used. | ● More water quantity being used. |
| ● Low pressure application to the carpet fabric. | ● The high cleaning pressure may damage the carpet fabric. |
| ● It need short drying time, may be 1-2 hours | ●It require more drying time, almost 1-2 days |
| ● Environmental friendly solutions, better cleaning method | ● The extra amount of water can cause mold. |
Steam Clean Carpet:
In steam carpet cleaning process the carpet gets saturated with an unnecessary amount of water which in turn attracts mold, mildew, and bacteria to grow. Apart from that Steam clean make the carpet wet and it takes more than for 1-2 days to dry properly. In the end, you will find soapy residue on your carpet which can be a cause of attracting dust and dirt and make the carpet get dirty much faster than ever before.

Dry Clean Carpet:
The chemical dry clean process is totally different from the steam carpet cleaning. Here no water is used. Unlike in steam cleaning the carpet is not going to be soaked in water and detergent mix. As compared to steam cleaning in Dry carpet cleaning less than 80 percent of water is used. Dry Carpet Cleaning takes help of thousands of microscopic bubbles to clean the dirt from the deep root and make the carpet clean and fresh. As the process uses minimal water, there is no chance of moisture to attract dirt and bacteria. Now the Advanced Dry cleaning companies do not use heavy soaps and detergents. Instead, they use natural carpet cleaner for a better life of the carpet. It will just take an hour or two to dry up based on the environmental factors like airflow, humidity and the type of the carpet.

There are different methods of carpets cleaning suitable for the different varieties of carpets. The methods suitable for one carpet may not hold good for another. Encapsulation carpet cleaning, End of Lease Carpet Cleaning Services, Rotary scrubber cleaning, Dry carpet cleaning, and carpet steam cleaning are among others. Hence steam and dry carpet cleaning methods are the most common and popular to eliminate contaminants from a dirty carpet.

Whom to Trust?
Dear homemakers, Carpet Steam Cleaning Adelaide is not your task anymore. Shift the responsibility to the correct hand and make your life peace with the better overall health of your family and kids. Always pick a good professional carpet cleaning service with affordable rates providing better customer service. And we at Carpet Clean Master can be your best bet.
Related Blog => How to Treat Juice Spills in Carpets